&nbsp &nbsp &nbsp
About Tracy Cassels, PhD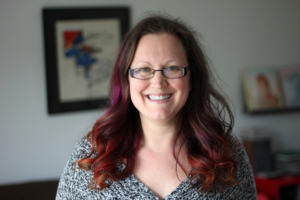 Tracy Cassels, PhD is the director of Evolutionary Parenting, a resource she founded in 2011 after the birth of her daughter Maddy.  It began whilst she was in graduate school and has continued and grown as she completed her PhD and moved towards more direct work with parents and families.  She has a B.A. in Cognitive Science from the University of California, Berkeley, an M.A. in Clinical Psychology from the University of British Columbia, and a Ph.D. in Developmental Psychology, also from the University of British Columbia.  The focus of her dissertation work was on empathy and theory of mind in young children.
Her academic works have been published in peer-reviewed journals, including Psychological Assessment, PLoS One, Personality and Individual Differences, Midwifery, and more. Tracy serves as an Adviser to the Children's Health & Human Rights Partnership, a non-profit agency dedicated to ending routine infant circumcision.  She has previously worked in the non-profit sector in agencies focused on education and/or social and emotional development.
She is married to Brian and is mother to two young kids and a stepmother to one older kid.  She lives in a small town in Prince Edward County, Ontario, Canada.
&nbsp &nbsp &nbsp&nbsp &nbsp &nbsp