By Tracy G. Cassels
I admit I love the idea of light wall art.  We have canvas art of pictures of Maddy at home and they're some of my favourite pieces on our wall.  So when given the opportunity to review a Dia Noche Design piece, I was thrilled.  My idea had been to put it up in my stepson's room who still requires light at night and as such uses the dimmer on his ceiling light, something I was hoping to stop given the energy waste.
However, what arrived was actually a piece that they no longer sell except by special request.  It does not go on walls, but is a box piece to put on a table.  Unfortunately for my stepson, his nightside table is too small to hold that and the light would be too bright right next to him.  We'll still try to figure out how to make it work, though, but it makes the job of reviewing a bit harder as I don't have a product that's actually available.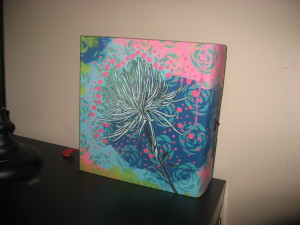 So what can I tell you?  Well, the work itself seems great and professional.  The design I received isn't really my style (see the images above and below), but the art is certainly well done and I can imagine that if I were to purchase one with a photo image of my daughter, I would be absolutely in love.  And the way the light comes through is beautiful.  The designs on the site for wall-mounted art do look great.  One concern is how the plug looks going down the wall.  They have created it in such a way that you can unplug it during the day so it serves as art, but I know personally I would hate having to plug it in every evening and unplug every morning, so I would simply switch it off and leave the plug.  Unfortunately I can't comment as I don't have one to look to.  Though they show you how you can drill holes in your wall to have the plug go through there, but that's not an option I'd personally ever be interested in.
A second concern is that you cannot change the light bulb.  Now, on the site they mention that they use LED bulbs that should last approximately 5 years, but if I'm buying a piece like that, I would like it if there were a way to replace the bulb, even if it is infrequent.  They do not have battery operated versions either, but that is apparently in the works (according to their FAQ page).   The final concern is to do with the width, or thickness, of the product.  I can only assume that that is the same as the model sent to me and it runs approximately 4 inches, which is rather thick for something hanging on the wall.  Personally this wouldn't bother me at all, but it's something worth considering when we tend to be used to the ½ inch or full inch thickness of almost anything else hanging on the wall.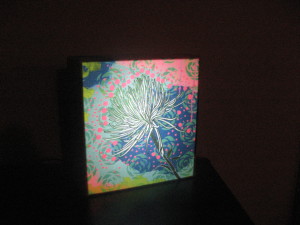 In sum, I think the idea is brilliant and personalized ones in particular could be something a family would truly enjoy for as long as the light bulb lasts.  You'll have to see how the wall-hanging ones work for you though!
GIVEAWAY: Dia Noche Designs is kindly offering $149 in credit for you to create whatever wall mounted light art you wish.  Choose from one of their pre-made designs (for which $149 would cover it all) or apply the credit to designing one yourself (I'm not sure about the cost here).  Shipping is not included and runs approximately $15 and they will ship worldwide.  Contest runs from midnight on June 24th to midnight July 1st 2013.
a Rafflecopter giveaway