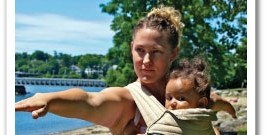 WE HAVE A WINNER!
Congrats to Whitney who entered on the comments below

If you did not win and would still like the Babywearing Workout, you can order the DVD ($19.95) or download ($9.95) by clicking here or on the affiliate ad to the right.
Keep your eyes open for our third week of giveaways, next up: Mama Goddess!
Got a newborn and want to get back into shape without having to separate from your wee one?  It seems you need the Babywearing Workout, developed by a mom for moms.
From the Babywearing Workout:
If you were to start a conventional weight loss work out plan your trainer would have you start with lighter weights in strength training and slowly increase the weight over time as your body gets use to them. Well, your baby is a genius fitness trainer because she naturally will do that for you. As your body adjusts to carrying her around she grows and gains more weight to up the ante of your workouts with her. Awe… she is so smart….yes the smartest baby in the world!! She helped you gain all of that weight and now is going to help you lose it too!

This DVD is a short 30 minute exercise video you can do in the comfort of your own home. You won't have to leave your baby with someone else and pack yourself off to a boring gym. Your baby will love being snuggled up close to you as well as all of the movement and music in the background. You will get a great little workout to help you shed those pregnancy pounds and if you are anything like me hopefully you will lose more than that! Oh and there is a BONUS PRIZE….your baby will most likely fall into a deep slumber by the end of the workout! Moms you can agree with me that that is priceless and worth every dollar you spent on this DVD and the carrier you are wearing him or her in.
Perfect for you or anyone else you know whose just had a baby and is looking for a good workout.  To enter, just comment on this post or if on Facebook, just say you're interested.  The draw will be held on December 14th, 2012!
Good luck and get working!
Related posts:
Share
About Author
(0) Readers Comments