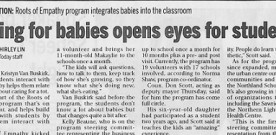 RANDOM ACTS OF KINDNESS INCREASE POPULARITY
In the aftermath of Christmas, a parent could be forgiven for thinking that materialism has trumped human kindness.

Take heart. Children can easily become kinder and more helpful. And that behavior makes them more positive, more accepting and more popular.

At least that's how it worked for fourth- and fifth-graders in Vancouver, Canada. Researchers there have been studying empathy and altruism in schoolchildren for decades.

"How do we decrease bullying, increase empathy and caring for others?" says Kimberly Schonert-Reichl, an applied developmental psychologist at the University of British Columbia who helped lead the experiment.

They wanted to see how performing random acts of kindness would influence that. But one measurement thrown into the mix almost as an afterthought — being liked by peers — was the quality most improved by helpful acts.
There is some amazing research on empathy these days with the explicit aim to try and improve what has become arguably a less empathic society.  And while I appreciate the findings here – knowing that random acts of kindness can help kids be popular, if we don't start focusing on how we treat our children when they are young, how will we end up with kids who show random acts of kindness?  I don't know that popularity alone (especially if the gains aren't huge) will elicit this type of behaviour without prompting (and if prompted, it's not really a random act of kindness, is it?).  However, it does provide some insight into how empathy and altruism have developed from an evolutionary standpoint!  And that is cool in and of itself.
Do you think that we need to focus more on parenting when it comes to fixing the societal problems pertaining to low empathy and kindness?
PRAISING KIDS IS ACTUALLY HURTING THEM
For writer and father Po Bronson, yelling praise from the sidelines of a soccer game to his child has always been part of his parental territory. And what parent hasn't done the same, showering gushing platitudes like "You played great" or "You're so smart" at their children at every twist and turn?

But praising your kids, Bronson says now, is what can ruin them. In his latest book, "NurtureShock," written with Ashley Merryman, the science journalist explores some misconceptions about raising children and how certain modern parenting strategies, such as excessively praising children, can do more harm than good.

Bronson admitted, like others, he's guilty of showering his kids with general praise. Research suggests 85 percent of American parents believe it's important to tell their kids they're smart and to praise them for their intelligence.

"Kids become fixated on maintaining the image of being smart, of never getting anything wrong in front of people, of always looking like they've gotten everything right, of making it look effortless," said Bronson. "Because if you show effort, it's a sign you can't cut it on your natural gifts. And so they make safe choices. They choose classes that won't challenge them. They choose teachers and projects where they know they can get an A."
I've covered this elsewhere and it's research that is pretty well known – praising our children for their abilities instead of their effort causes harm.  What's amazing is how instantaneous this effect is.  The fact that it can influence a child over the span of a single study shows how powerful our words are on our children.  Imagine how these words influence children when repeated regularly and by someone they trust.  To me, when people complain about the generation of entitled youth living at home with their parents and then try to blame attachment parenting, I scoff.  The real problem?   A society that tells us we need to tell our children they're great in order to build up their self-esteem instead of teaching them the value of effort and work and allowing that to build up their self-esteem.
Do you believe that praise can hurt our kids?  Do you think it contributes to the problem of the self-entitled generation?
POVERTY POSES A BIGGER RISK TO PREGNANCY THAN AGE
The dilemma that couples face as they consider having children at older ages is worth dwelling on, and I wouldn't take that away from Judith Shulevitz's essay in the New Republic, "How Older Parenthood Will Upend American Society," which has sparked commentary from Katie Roiphe, Hanna Rosin, Ross Douthat, and Parade, among many others.

The story is an old one—about the health risks of older parenting and the implications of falling fertility rates for an aging population—even though some of the facts are new. But two points need more attention. First, the overall consequences of the trend toward older parenting are on balance positive, both for women's equality and for children's health. And second, social-class inequality is a pressing—and growing—problem in children's health, and one that is too easily lost in the biological-clock debate.
Okay, maybe it's just me, but this should be filed under "Duh".  Of course poverty and a lack of proper prenatal care will pose a bigger risk to a woman's pregnancy than her age.  I also don't think that that is the point of the myriad articles talking about the potential repercussions of older parenting.  I also have to add that the particular article here doesn't do a great job of doing anything other than pointing out the obvious.  The real issue, as I see it, is how to ensure that all women have appropriate prenatal care regardless of age or income.  That is something worth discussing…
Related posts:
Share
About Author
(0) Readers Comments