Note: I apologize for the length, I didn't mean for it to be so long, but alas, sometimes there's a lot to say!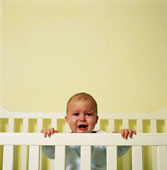 There's an article making the rounds that is claiming it's false that any form of sleep training ever will have a negative effect on your child.  It's quite the dramatic claim, the counter to the other dramatic claim that sleep training will ruin your child forever.
I don't buy either view.  The fact of the matter is, we have so little research on this that we really don't know much.  I think there is a pretty strong circumstantial case that sleep training can absolutely pose problems in some individuals and it definitely doesn't do anything positive for the relationship, but the smoking gun is absent and parents really need to know this. (This said, I absolutely 100% am against extinction sleep training methods and believe that when we look at what we do know, we should see that it is not only not helping infants sleep, but the risks of potential problems is still there and should be seriously considered by all.  Also, there are other methods.)
However, equally they need to know that a lot of what people are talking about with respect to the lack of effects of stress on infant development and attachment also doesn't hold much water (if any) at all.  Frankly all parents deserve to know how little we actually know about long-term outcomes (after all, sleep training is a very recent development in the history of humankind and still remains something many cultures are, to put it lightly, dismayed by) and the options that exist for them when they feel they are in crisis.
However, this piece is to counter the specific claims made in one piece using the research cited within it because it is frustrating to see such absolutes taken from research that really makes no absolute claims.  You can find the original article and the research cited here: https://www.littleones.co/blogs/our-blog/sleep-training-stressed-out-babies.
Claim #1: Sleep training "generally just means a baby is learning the skill of falling asleep independently when they are developmentally ready to."
Okay so there's no research here, but I had to call this out.  Let's look at it logically: If a baby is developmentally ready to fall asleep independently, s/he will unless you're a parent who is actively keeping them from doing so.  And this doesn't mean nursing to sleep or anything like that.  I don't know parents who see a baby drifting off then wake them screaming, "No!  I MUST put you to sleep!"  Just as you don't need to train a baby to eat, crawl, walk, and so on, you don't actually need to train a baby to sleep.  You provide the right environment (and this is where some families can get mixed up) and when your baby is developmentally ready, they will fall asleep independently.
It is worth noting that our society tells us this time frame should be early, but we have nothing to back that up.  In fact, we have no data that tells us when is normal for a child to sleep through from a biological perspective because our parenting habits are so counter to it that even the studies we do have that look at sleep are skewed.  We do know that breastfeeding babies tend to wake regularly for longer periods than non-breastfeeding babies and co-sleeping babies (which is, in fact, the biological norm) will wake more frequently too.  There's also huge inter-child differences so perhaps it's just futile to have any set time frame.
For those interested in the topic of culture versus biology, I strongly, strongly recommend reading Our Babies, Ourselves by Dr. Meredith Small.
Claim #2: Babies respond to stress differently, not all result in a rise in cortisol.  Specifically, they will react to something new (like a bath) with crying and a rise in cortisol, but as they adapt to it, they won't have that rise anymore.  So the stopping of crying in sleep training is not about "giving up" but because they have "moved through the stress response to a positive response".
Okay, a lot to unpack here.  Let's start with the first bit that babies respond to stress differently and not all stressful situations result in a rise in cortisol.  This is true.  What's missing is what we know about the "why" here.  Of course I should preface this by saying that the why may be temperamental differences.  Kids with "easier" (hate that term, but it's used) temperaments may simply not find as much stressful and thus not respond as such.  However, even when there is a situation that should result in stress and doesn't, we find it's almost inevitably due to social buffering (Gunnar & Donzella, 2002).  That is, when children experience stress while being supported and cared for by a responsive adult, they can show the same behavioural response of crying, but it's not associated with a rise in cortisol.  This is what is called hyporesponsivity and is a hallmark of infant development.  Notably, this is far more pronounced and important for children with a "negative" temperament (i.e., sensitive) as they seem to suffer if they do receive what Gunnar and Donzella "less-than-optimal care".
This social buffering is crucial because it addresses the issue of whether or not a child is giving up or having moved to something positive.  The author uses baths as an example and although some of us with sensitive kids realized they never moved to finding the bath positive until a year or so (thank you showers), most do find their child is upset in the tub but then adapts.  The key part here is that your child has you comforting them and responding to them as they take the bath.  The responsiveness and support of a parent is crucial to helping children learn from mild to moderate stressors (you can also see the work of Dr. Bruce Perry as he does discuss the importance of support during periods of stress in helping children learn emotion regulation).  In sleep training, there is no one to learn from as a child is often left by him or herself.  In fact, the surefire way to elicit cortisol in children is to separate them from a caregiver and not provide responsive care.
Therefore this claim that a child has not given up is based on nothing but wishful thinking.  Perhaps the stress an individual child experiences isn't great, but to claim that the idea of giving up is patently wrong isn't supported (and learned helplessness is a thing for kids).
Claim #3: Comparing sleep training to leaving a baby for a moment as you attend to another child to cry.
This is the argument we always here and one that drives me nuts.  If your version of sleep training involves leaving your baby for a moment while you pee then going and comforting and providing ongoing support then it's not sleep training.  Leaving a child who is in distress for set or prolonged periods intentionally is what we are talking about.  Of course sometimes children are left as we address other kids, but this shouldn't happen often and in fact from a historical perspective, babies rarely were left even for these shorter bouts as there were various people around to assist and attend to baby.
Claim #4: Cries are protests to change, not distress.
The author seems to suggest that all crying at night is "protesting" because something is different and unexpected.  In some ways, she may be right as children will cry at the unexpected.  Humans are creatures of habit and we do get stressed when we experience change.  However, again we have to go back to social buffering: We adapt to that change through support not being left.  In fact, when we look at the development of emotion regulation, it is dependent upon us adults modeling assistance for our children until they are capable of it themselves and this takes a very long time.  The first stage of "self-soothing" in the emotion regulation world is actually a child calling out for you to seek support and comfort.  They have realized that they need your support to regulate and so they call for that.  If you leave them, they simply don't have the tools to regulate from a physiological perspective.  This is a far bigger topic than for her, but suffice it to say that there is nothing that suggests the idea of leaving a child to "learn" to settle does that in the least and in fact seems to be counter to the development of self-soothing.
Claim #5: Your baby absolutely will not be damaged in any way from any sleep training and you can tell because your baby will still cry for you at other times during the day.
Sometimes I don't know where to begin and this is one of those times.  I think I will bring up the following just to show the ridiculousness of this idea:  Children who are abused, neglected, and have severe attachment issues will cry and will still cry for their parents and for their support.  I have worked with children with trauma in their history and attachment issues and these kids still reach out to their family when they can.  Seeking support from a caregiver is so hardwired that it takes an immense amount of time and damage to move away from that and that certainly doesn't happen in infancy or toddlerhood.  You simply cannot take the idea that a child still reaches for you as evidence of anything.
Claim #6: "The levels of cortisol a baby releases during times of short term 'stress' are lower (by 100-200%) than the cortisol levels babies (and adults) naturally produce throughout the course of each day".
This is true, but is irrelevant to the argument.  In fact, it holds for adults as well.  Most of the "stress" we experience is a fraction of what the normal levels released are in the system, but the typical amounts released are there for specific uses.  The problem is not the amount that is released, but the deviation from the normal and natural rhythm because the body's response to this temporary increase actually has other implications for development and overall well-being.  When we have an increase in stress, it is a signal to the body to do all sorts of other things, like increase heart rate, send blood to the centre of the body, and so on.  These things tax the body and we need to recuperate to get over it.  If the amount of cortisol were the only issue, we wouldn't see chronic stress problems in adults either, but the fact remains we have serious health problems in our adult population due to chronic stress.  (I strongly recommend reading Why Zebras Don't Get Ulcers by Dr. Robert Sapolsky for more discussion of the issue of stress on the body.)
Now, you may think that because sleep training isn't chronic, then the amount matters.  The problem with that is that it presupposes we know when stressful situations result in trauma that has lasting impacts and the fact is, we don't.  Understanding why some individuals experience long-term trauma and others don't is an ongoing area of research and one I hope we can make greater headway on, but we aren't there.  If you question this, let me briefly tell you about a case study in Dr. Bruce Perry's book The Boy Who Was Raised As A Dog.  This book is a series of case studies of child trauma and one case was a young toddler who was severely traumatized after parents discovered that the nanny who was watching him during the day was leaving him in his bed all day to cry and be alone.  When parents came home they were loving and caring and responsive, so he actually lived in a very responsive environment for a large portion of the time, but those eight hours a day he was left alone.  The trauma of being abandoned and left all day (though his parents made sure he was fed and cared for at all other times) was enough to result in a damaged child that needed a lot of help to overcome this temporary abandonment in the context of a loving home.
Claim #7: "Working gradually towards better sleep is, in the short and long term, going to mean your baby is in fact producing less cortisol overall than a baby who continues to be overtired or sleep deprived."  This combines with earlier statements that sleep training produces less cortisol than starting daycare and being overtired.
So let's start with the fact that we have no research comparing these outcomes.  This seems to be extrapolated from different pieces of research, and unfortunately, poorly so.  Research on cortisol levels in sleep training come from Middlemiss et al. (2012), research on cortisol levels in daycare come from Vermeer and van IJzendoorn (2006) and Ahnert et al. (2004), and the implication of overtired seems to come from Scher et al. (2010).
Why should we not compare across these studies?  Primarily in this case, it's to do with ages and the natural development of the cortisol circadian rhythm.  For example, Scher et al. (2010) included children between the ages of 12 and 36 months, a relatively large range.  However, Middlemiss et al. (2012) included infants aged 4 to 10 months and the meta-analysis from Vermeer and van IJzendoorn (2006) included nine studies, but only one included children under one year and the mean for that group was still 20 months.  Given another study cited herein (de Weerth, Zijl, & Buitelaar, 2003) speaks to the fact that the development of the circadian rhythm is highly variable in the first year with lots of inter-individual variability, comparing children under 12 months to those above is highly suspect.  Furthermore, the development of the circadian rhythm actually continues to develop for a few more years so crossing studies may still be problematic.
The second issue is that we have one preliminary study (Middlemiss et al., 2012) that has even looked at cortisol during sleep training.  This is a very difficult group to take as a standard, though they did find increases in cortisol during training.  However, as this is the youngest group of the studies referenced and this is known to have large variability, being the comparison group is unwarranted.
But if we ignore these problems and just look at the claims that sleep training is less stressful than either daycare or being overtired, what do we have?  Well, with daycare, we may want to say it's more stressful and that the stress lasts as there is a lot of research suggesting this, especially in younger (<36 months) children.  I realize that we have culturally normalized daycare, but that doesn't mean it's not problematic and there is also research that quantity of daycare is related to other externalizing and internalizing problems (you can read my summary of daycare research here: http://evolutionaryparenting.com/daycare-and-cortisol-levels-what-does-this-tell-us/), so to use this comparison to claim no problems with sleep training just doesn't make sense.
Now to being overtired.  I believe that based on what is referenced, the author is suggesting that Scher et al.'s (2010) research that found elevated morning cortisol levels were associated with fragmented sleep is an indication of overtired.  However, what was not discussed is that children who had fragmented sleep also were rated as having greater "negative" temperaments or personalities.  In line with findings from Gunnar and Donzella (2002), we know that infants with this temperament are more likely to have higher cortisol levels and require more support and sensitivity from caregivers.  This means that we may not be seeing anything to do with being overtired, but rather physiological levels associated with a particular temperament or children who are not receiving the type of care that is needed given their temperament.  In fact, Spangler et al. (1994), also cited in the original, speaks to the link between maternal sensitivity in the first year and increases in cortisol, with insensitive mothers having children who had higher cortisol levels all around.
***
Okay, so I hope it's clear that the research doesn't back up these claims as they have been stated.  Of course, they also don't support the notion that all children will be damaged beyond repair and lose attachment to caregivers and so on.  It's far more complicated and nuanced and that's something we should never forgot.
To read more on stress and sleep training, see here: http://evolutionaryparenting.com/stress-and-extinction-sleep-training-its-not-so-simple.
To read more on the effects of distress on stress, see here: http://evolutionaryparenting.com/distress-self-soothing-and-extinction-sleep-training.
To read more on the period of hyporesponsivity and the importance of caregiver responsiveness, see here: http://evolutionaryparenting.com/its-just-a-little-cortisol-why-rises-in-cortisol-matter-to-infant-development/.