Attachment-Based, Science-Backed Help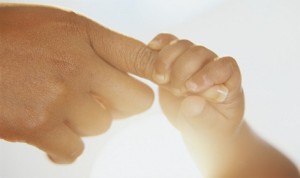 Parenting in today's modern environment is hard.  We no longer live in supportive environments with help from others in our "tribe", but rather we are isolated with immense pressure to do everything for ourselves.  In turn, our culture has ideas about raising children and babies that are about as far away from our children's biology and needs as can be.  This makes parenting even harder.  On the one hand, families know they want to be supportive and responsive to their children and on the other, they are told that they only way to "succeed" is to distance themselves further.
For me, I focus all of my work with families on solving problems with an attachment-based focus.  Having a secure attachment is essential for our children as it is one of the biggest predictors of later well-being and happiness and yet most advice today gets us further away from this.  Most popular books these days focus on first-wave behaviourist methods to change the element that is a problem for the family, but I simply will never do that.  This is why you will never, ever have me support extinction methods of sleep training, punishment, or anything else of the sort.  I firmly believe that the most important thing we can do for our children is to help them develop a secure attachment.  This means meeting their needs at a basic level for food, shelter, and warmth, but also their psychological needs for love, safety, and security.  Without this secure foundation, our children will suffer.
I like to take it one step further and consider all relationships in the family when dealing with any issue because at the heart of many issues lies relational problems.  What does this mean?  It means that at the heart of every decision and every problem, we look at how the choices impact the relationships between children and parents, between parents, and between siblings.  This is crucial because just as we cannot put the onus on the infant or child to change to improve the lives of others, when we consider that the family is built up of many relationships, we have to consider them all.  This doesn't mean they all get equal weight, but hopefully they are all treated equitably.
Of course, I also make sure my recommendations (yes, they are recommendations that will be specific to you and your situation) are backed by science whenever possible.  Sometimes we just don't have the research, but in most cases, we can look to what we do know to help guide what is best for you and your family.
Areas of Parenting I Can Help With
Given the approach I take, I can help with almost any issue.  I have primarily focused on the infant-to-preschool age-range, but have also worked with families of older children who are struggling.  I have covered a wide range of issues including discipline, coping with a new sibling, social and emotional development, schooling, daycare, and, of course, sleep.
In some cases, children have had diagnosed or suspected medical or developmental problems and I will always make sure I can be as up-to-date as possible and ensure advice follows known protocols for the particular situation. If I cannot or do not have enough information, we can make a joint decision as to how to proceed.
Booking
You can use the calendar below to book your session or you can scroll down below to first read about the types of appointments to know which one is best for you.  I try to include times that suit all time zones, but if you find that there isn't a good time for you, please reach out via email (tracy@evolutionaryparenting.com) and I would be happy to help you set something up.
(Note that payment is due upon booking except for the sleep coaching package in which a deposit in the amount of a one-hour consultation is due instead and you will be billed separately for the remaining amount between Sessions #2 and #3.)
What Kinds of Help Are Offered?
The help I offer is in the realm of consulting or coaching.  It is not therapy (though sometimes it can feel that way) and it is not prescriptive.  That is, I will offer suggestions, but as the end decision rests with the family, I always view this as a collaborative process which involves a lot of discussion of what the real needs are and how we can meet them with me offering information, support, and ideas, and you telling me what will and will not work for you as a family.
To meet these goals, I offer three types of parenting help:
One-Hour Consultations
These are done via Skype or phone and cover a broad range of issues and are perfect for most topics.  These include the one-hour session, a brief (1-2 page) summary of what we discussed, and limited email follow-up.  You can also purchase a more in-depth (8-10 page) summary which would include far more information, reading recommendations, and more.
Attachment-Focused Sleep "Coaching"
If you believe you have sleep problems with your child, this package is for you.  It is a 3-session package which includes the 3 1-hour sessions, email follow-up, and summaries of each session.  Each call covers a different area that is crucial to looking at sleep through an attachment lens.
Session #1 focuses on reviewing your history and ruling out (or in) any medical or other problem that may impact sleep as well as a discussion of healthy sleep habits and how your current set up can be changed to reach these.  (Note that what I consider "healthy sleep habits" is very likely NOT what you have read or think about as many of the ones touted in the mainstream are neither healthy nor good from an attachment perspective.)  We will also start to discuss expectations and what is biologically normal for infants based on age, temperament, health status, and so on, but this is a discussion that will weave through all three sessions.
Session #2 focuses on the idea of self-care and working to fix the relationship issues that may exist in your family.  We will look at various areas of self-care, but my firm belief is that sleep is often seen as a major problem because of the impact it can have on other areas of life, even when that sleep is biologically normal (and if it's not, we'll already be working on that starting in Session #1).  We have to address the problems and not place the burden on our infants and children alone.  In addition, we will review what was changed or identified in Session #1 to see what needs changing or tweaking because there is never a one-size fits all solution and finding ways to help bring sleep back to its biologically normal state can take time.
Session #3 focuses on going over all that has taken place in the last two sessions and making any final adjustments while discussing what families can look for moving forward.  Knowing some of the developmental milestones that will be upcoming and their impact on sleep can help families feel more secure in coping later on.
Email Options
There are two types of email options: monthly support or an email consultation.  An email consultation includes 3 emails from me on a specific question that I will advise on and then follow-up over a period of time.  This is not to be used for sleep coaching, but can be used for very specific sleep questions.  To do sleep coaching via email would be too difficult given the number of variables we examine in a sleep coaching session.
The second option is monthly email support.  This is for those who need a month of some ongoing support in a variety of areas.  This is often used by those who are facing a new challenge and just need to be able to ask questions as they like.  Examples include welcoming a new sibling to the house, having a premature baby, starting daycare or school, and so on.  This type of support provides peace of mind as you navigate various issues on your journey.
Finding Tracy was a blessing, a miracle, and an answer to all my prayers, my meditations, and my heart-wrenching pleas as I sobbed new mom tears trying to figure out life and sleep and conscious, respectful parenting. My phone call with her was beyond illuminating. I felt buoyed by her knowledge. Her kindness and understanding were a balm for my sleep-deprived soul. The work she does, the insight she offers, is beyond invaluable. She was a friend when I needed one. She lifted me up and empowered me and helped me put our once-fracturing little family back together.
What impressed me most was that Tracy was able to foresee things we hadn't even thought about based on the behaviours our son was displaying which meant we were able to plan ahead to my transition back to work and take immediate action when we saw that nursery wasn't a good fit for our son. I'm not sure I would have had confidence to stand up and change the plan had Tracy not prepared me. It's so easy to be swept along with 'oh it's fine, he'll settle eventually, all babies go through this….'. But Tracy taught me the importance of listening to your maternal instincts which can be hard to do for a new mum lacking in confidence that she's doing everything right when there is so much conflicting information all too readily available.
Speaking to Tracy was like coming home within myself. Tracy reminded me of all the things I *knew* about children and about *my child* especially. My daughter needed communication, she needed predictability, she needed us to be open and honest with her, she needed to be a part of the decision making. Ultimately she still needed to be close to me – and that's perfectly normal for a four-year-old!
Tracy reassured me that following my gut and parenting at night by helping my daughter sleep by cosleeping and nursing would not in fact create a child that cannot sleep on her own (as plenty of my relative keep earning me) but rather I will be helping my daughters brain lay the path that night time is a safe and secure leading her to enjoy going to sleep and staying asleep.
Her kind, gentle and science-based approach was exactly what I was looking for. She helped me reshape my expectations around infant sleep and I've been so relaxed about it since! On top of that she helped me see that my little girl isn't as difficult as I thought she was, but that she has particular needs, and I feel more confident in meeting those needs now. As a family we're much happier and I'm enjoying motherhood more now too.
Tracy was professional and knowledgeable, but talked to me in a very friendly and personal manner. I felt like she acknowledged and understood my emotions, when most people were dismissing them. She worked hard to learn as much as she could about my baby, and offered me tailored suggestions that took into account our individual circumstances, needs and personalities. Her approach was responsive to my baby's needs and I felt like his wellbeing was put first and foremost when she offered her suggestions.