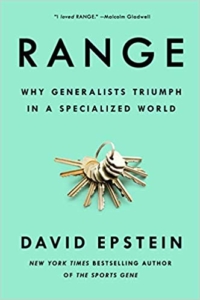 A warning this is LONG, but I believe worth the read.  You may want to come back and read in chunks.  I have thus separated the questions into categories so you can read which ones you like.  Enjoy!
One of my favourite books from 2019 was Range by David Epstein.  It is an antithesis to the "early expertise" push that has become rather dominant in our society.  That is, most people believe that we need to focus our children's talents early in order to get them those necessary 10,000 hours to become an expert.  In part because of this, we see:
Kids in tons of activities, being shuffled around with no free time
Parents losing their minds at children's sporting events
Pressure on younger and younger children to succeed early and often
Schools with less free time or focus on activities outside of core academics
Is any of this actually helping our kids?  I would say no, but that alone wouldn't take down the 10,000 hours rule.  However, what Mr. Epstein has managed to do is weave a very convincing narrative that for many of us, it's not about honing in early, but rather tasting pieces of the world around us in order to bring a breadth of knowledge to our eventual specialization.  As a rather "late-bloomer" myself and one who has made it my mission to look at parenting from different perspectives, I appreciated this take as it spoke to me at a personal level.  Notably he doesn't ignore the role of our narrow experts who do need to specialize early to be the best and their role in our society is celebrated, but rather it allows an exploration of another side to expertise that may better suit many of us.
The following is a written interview I was able to do in 2019 with David as he became a new parent for the first time and how his writings may pertain to those of us looking at parenting as an area where range may be most important of all.  I want to thank David for taking the time to answer all my random questions and hope you can enjoy reading them as much as I did!