By Tracy G. Cassels
You can tell a lot about a company based on how they handle things when something goes wrong.  I was expecting an order from Natural Moms and Tots to review and when it arrived I was a little shocked when the UPS delivery man told me I owed money.  Thinking it was a small amount of customs, I was ready to pay out until he told me it was close to $100.  I balked and wondered what the heck was going on.  This was more than the entire order!  I took a look at the invoice and the value of goods was listed at $480, something that was clearly not true.
So the package wasn't accepted and the guy agreed to come the next day to see if we could get this sorted.  Manal, the owner of Natural Moms and Tots, was horrified.  Apparently, she'd had a problem when the order was set up, called UPS to fix it and was told everything was fine.  Only they did nothing.  So she got on calling them again.  But the next day UPS returned and it was still pay up or no package.  So I had to say, no package.
I emailed back that I had to have the package returned and wondered what I was going to do for a review.  Well, in true good-business-fashion, Manal handled it and a few days ago, UPS was back with a package and no fees.  I don't know what she did, but she made sure I didn't have to stress about it and in today's world where many businesses only give lip service to customer satisfaction, Natural Moms and Tots follows through.  And I'm so glad.  Because I LOVE what we got.
If you check out Natural Moms and Tots there's a lot of stuff for birth and baby that looks amazing.  However, my daughter is 3 and so much of it wouldn't really be too relevant so I went for clothes because I can always use clothes.  At this stage I'm wishing they made clothes for adults.  All of the clothes are 100% cotton and so soft to the touch.  My daughter has rather sensitive skin so clothes that don't irritate her are always welcome
I also appreciate that the clothes are generally quite gender-neutral.  Or at least have lots of neutral options.  For example, the shirt we got is a beautiful light green with an orange bird on it.  My daughter picked out the cars PJs which she has worn every night since getting them and I picked out grey lounge pants and the baby blue hooded shirt, all of which could be worn by anyone without any gendered assumptions.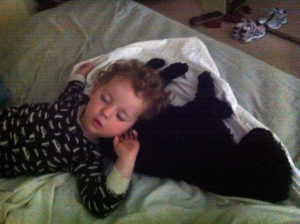 But one of the greatest things about Natural Moms and Tots isn't in the products (though clearly I love them) but in the philosophy.  This is a business run by a mom for other moms and a focus on natural, gentle parenting.  Their mission is:
Our mission is to provide the latest information, research, and tips to inform and empower modern moms in their parenthood journey, and to bring together the best products we can find to make this journey easier and more fun. We carefully select the best and safest products that support the attachment/gentle parenting style.
And I love that.  I love that you know each of the items is selected with gentle parenting in mind. That it's decided by a mom who's been there and not a CEO looking to maximize profits.  And the information on her blog reflects this.  All in all this is a company I can totally support.  And I love that.
GIVEAWAY!  Natural Moms and Tots is giving away one (1) $50 Gift Card for their site.  It is open to everyone worldwide, just enter below.  Contest ends on July 15th, 2013 at midnight PDT.