As a parent to a 5-year-old girl, I am acutely aware of the representations of females in the media my daughter is exposed to.  I admit it can grate me that the shows she loves so much often centre around a male protagonist, even if there are great female sidekicks (hello Syd the Science Kid, Daniel Tiger, and Dinosaur Train).  We have limited her exposure to classic Disney tales and focused instead on stories like Brave, Inside Out, and remakes of the older fairy tales that pit women as either helpless victims or evil witches, such as Maleficent (one of her favourites) and Once Upon a Time.
Books are luckily an area we have thrived in finding great female characters, thanks in part to authors like Robert Munsch (
[amazon_link id="0920236162″ target="_blank" ]The Paper Bag Princess[/amazon_link];
[amazon_link id="0545553768″ target="_blank" ]Give Me Back My Dad[/amazon_link];
[amazon_link id="0545990351″ target="_blank" ]Just One Goal[/amazon_link]; and more), but lately my daughter has been very into older fairy tales and Greek Mythology.  Now, as much as Disney stories can drive me mad with the black and white view of female characters, they didn't start this and this goes back to the fairy tales and myths of old, something I have to make sure to explain to my daughter.  (To be fair, the inclusion of goddesses in Greek Mythology has been nice, but the human heroes are all centered around men which she has already noticed.)
Enter Hilary Moore, author of the Brave Strong Girls series – three books (so far?) that give girls fantastic stories and a heroine who is more than just a pretty face looking to find her prince (hence the "brave" and "strong").  The stories are remakes of ones we know which is nice as it enables us to tell our kids that these other versions are just that – a version.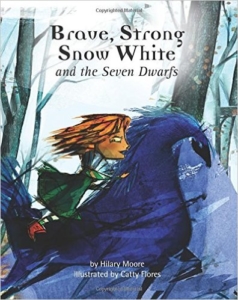 When Hilary asked if I would review the books, I jumped at the chance of getting some good stories for my daughter and hoped they would be fun to read as well.  The first story we read was the brave, strong version of Snow White, only unlike the original, this Snow White is more like Snow in Once Upon a Time.  More badass and the focus in on her brains, not beauty (a very clever twist we appreciated).  The wicked stepfather (yes, you read that right) wants to be the cleverest but Snow keeps coming out on top and can use those wits to outwit everyone else.  My daughter sat down to read this one with me and wasn't super excited as she hadn't asked for these books and never is excited the first time we read anything she didn't pick.  However, she was immediately hooked.  She loved the clever Snow White and was very excited to tell me the ways Snow could trick others.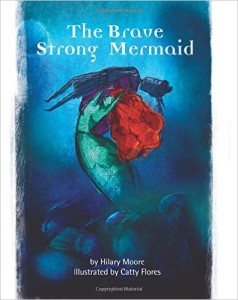 As soon as we finished the book, she grabbed the next, ready to keep reading.  The next was a remake of The Little Mermaid.  We read the story of how Allona the mermaid rescues a boy who ends up being selfish and causes her to lose her voice so he can become a mermaid.  My daughter was pissed.  She had plenty of ideas as to what she would do to a person who tried to do that to her, none of which were very kind, but certainly demonstrated the depth of her feelings on the matter.  The issue is resolved peacefully with Allona refusing to give up her work and her voice for the boy she just met, and him realizing the error of his ways.  My daughter was appeased.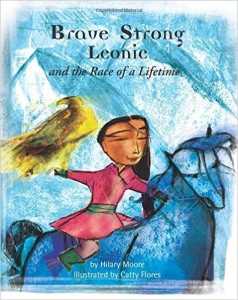 And yes, we finished this one and she opted for book three right away.  The third is like a retelling of Mulan only Mulan is kick ass enough herself that it doesn't need to be pegged as such, so I'll say it's more inspired by Mulan.  The story of Leonie and the Race of a Lifetime is about a young girl raised in a village where girls are not allowed to take part in the great race that marks the entrance to adulthood, but her best friend, a boy, does.  Of course Leonie refuses to accept it and sets out to race with the support of her friend.  My daughter was rather indignant that Leonie was not allowed to race at all, rightfully so, and so also enjoyed the third and final book.
Needless to say, the books met my daughter's approval and my own, with the order of favourites for me being Snow White followed by Leonie then the Little Mermaid (though I did enjoy them all and have read them all again since).  The artwork (by Catty Flores) was also a nice change from the usual style of drawing in fairy tales.  An added bonus is that these books were written for a higher purpose: The profits from the sales of these books all go to the Malala Fund, a non-profit that aims to "empower and educate girls around the world".  Kids book + strong female character + giving to a worthwhile charity = I'm sold.  The only possible warning I can give you is that these aren't short books so make sure to leave enough time to read them at night and certainly don't plan on reading all three at night unless you have at least 45 minutes and a glass of water for your voice (trust me, you'll need it).
All in all, I strongly recommend these books for anyone who wants to some good strong female characters for their kids' bookshelves.  And can you really ever not want that on your bookshelf, no matter the sex of your child?
You can click on the link below to purchase the stories through your local Amazon
[amazon_enhanced asin="0957392346″ /]     [amazon_enhanced asin="0957392362″ /]     [amazon_enhanced asin="0957392354″ /]