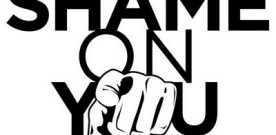 By Tracy G. Cassels
This will be short.
The last few days have been a whirlwind of emotions for many people.  If you haven't heard, Julie from The Progressive Parent found her son (in his 15th month) in bed unresponsive on Friday night.  They went to the ER where doctors tried to revive him, but to no avail.  Her beautiful, wonderful little boy was gone.
I have cried buckets thinking of this wonderful family losing their precious little boy.  I had hoped that people would provide love and support to a mother and father and siblings who are enduring a loss that no one deserves to endure.  And the vast majority of people have provided an outpouring of love and care that will make this time just an iota easier to cope with.
But not everyone.
Until they were banned, people suggested that Julie's actions of co-sleeping killed her child on her page.  On a place where she should be able to go and feel supported and loved.  Others questioned if she vaccinated and implied that if she did, perhaps that killed her child.  (All totally false, for the record, if you knew the facts.)
Let me say this – if your belief in your cause makes you think you can attack a mother who is grieving, you have lost your way.  I don't care what your cause is.  If someone said this to a mother who used formula it would be as disgusting or if a parent didn't vaccinate.  I don't care.  NOTHING gives you the right to attack a grieving parent.
NOTHING.
I don't care if you say that you weren't attacking but discussing.  Discuss elsewhere.  Go to your friends and family and talk about it.  Go to other pages and ask questions if you have them.  Going to the page of a woman who held her child for the last time days earlier, a woman whose breasts are engorged because there is no child to feed from them, a woman who donated her child's heart valves so that two other children may live, is sick.  And you should be ashamed.
In a community where we speak of no judgment, I will judge.  And harshly.  You have no place here.  You are not welcome.  Leave.
And let a mother and family who have hearts that have shattered grieve in peace and in love from those who have a heart.
A Facebook In Memory Page: https://www.facebook.com/InMemoryOfPatPat
A Fundrazr Site to Help Patrick's Family: https://fundrazr.com/campaigns/4R28c
Related posts:
Share
About Author
(17) Readers Comments